There are several types of Visas you can get to enter and visit or live in Mexico. I will discuss the 3 most popular here. FMM Tourist Card, Residente Temporal and Residente Permanente.
Below is the FMM form used to enter and exit Mexico for all types of Visa holders.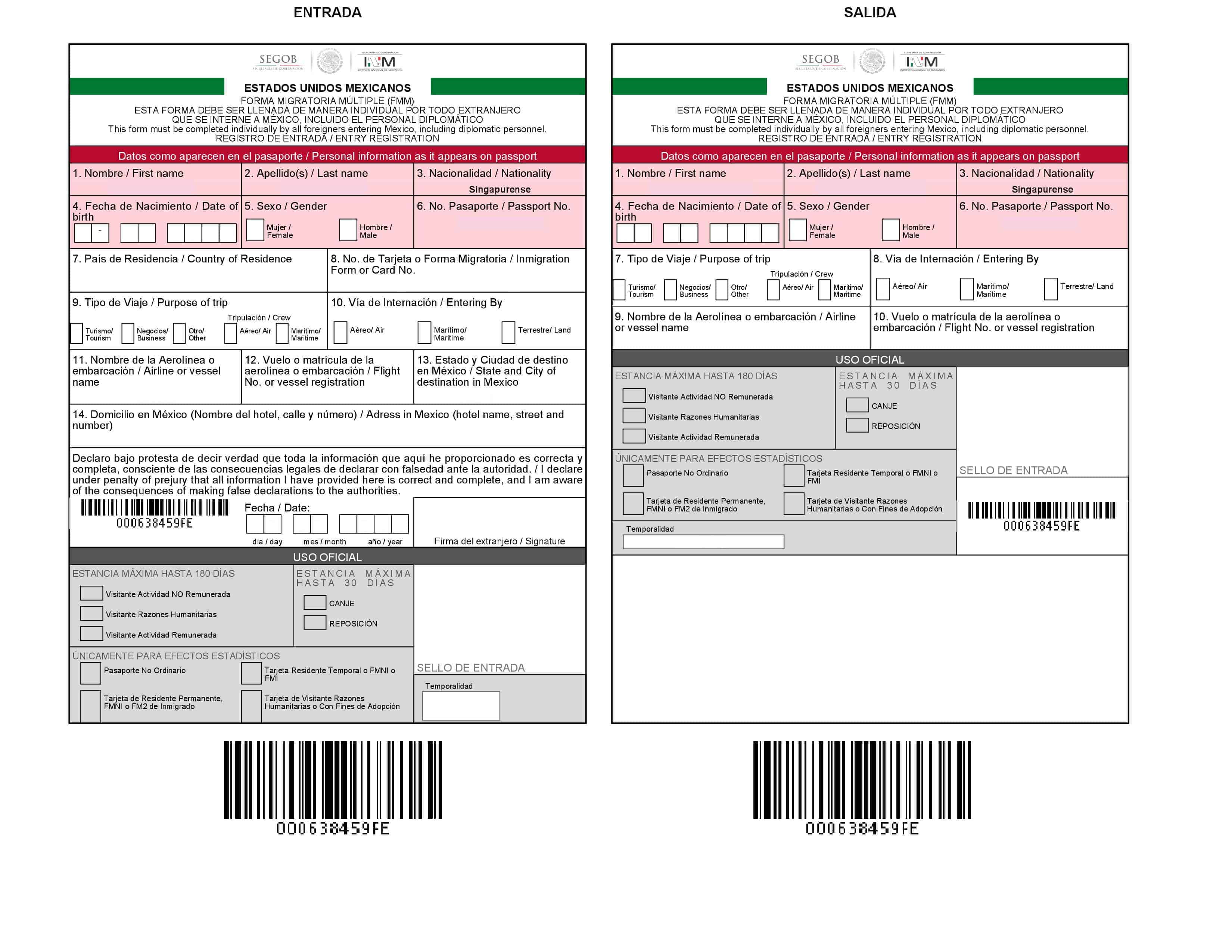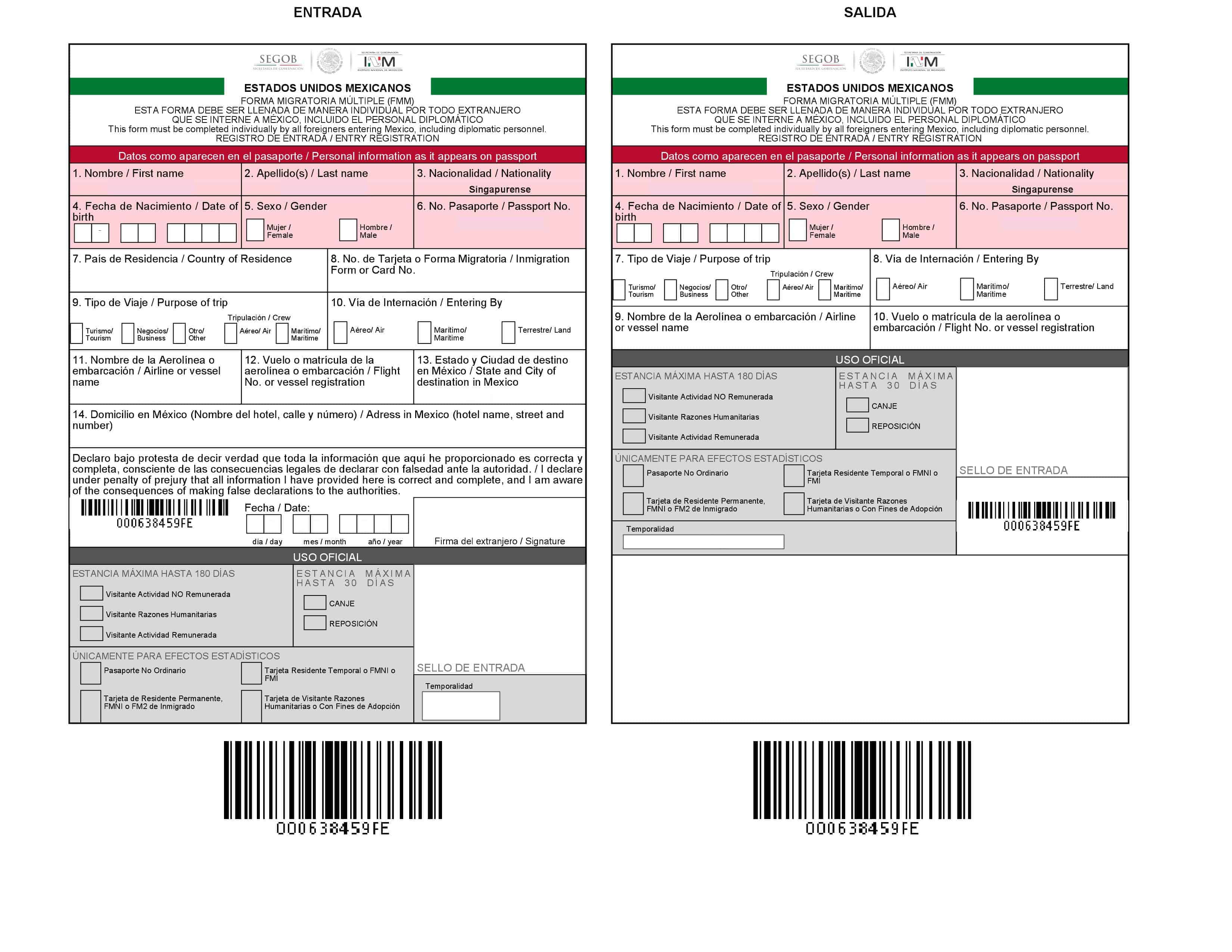 You use the same form for all entries and exits for all types of Visas. There are some significant differences on the boxes you check for the purpose of your trip that affect your status that are very important. We will point these out under each description.
The INM is phasing out the FMM form slowly and in some Ports of entry they will just stamp your passport and write the number of days you are allowed to stay in Mexico in the passport.


SPECAIL NOTE: PLEASE READ!!!!!!
If you have a Residente Temporal Visa Card or a Residente Permanente Visa Card never enter Mexico and select Tourismo/Tourism on your FMM form as the purpose for your trip as this will invalidate your VISA Card and you will have to start the process all over outside of Mexico. You must mark Other as your reason for entering.
SPECIAL REGULARIZATION PROGRAM FROM WITHIN MEXICO
Since 2012 you have had to leave Mexico and apply for residency at a Consulate meeting Financial requirements to obtain a residency Visa.
The INM in late October began enforcing Tourist Visa over stays and encouraging those who are here "irregularly", (a term INM uses instead of saying illegally), to become residents. They have begun questioning tourist return dates, lodging arrangements and they are checking for repeat border run offenders and limiting their FMM Tourist Visa stays in some cases. They want you to obtain residency if staying longer than 6 months or if you own property here in Mexico.
To help accomplish this they now have a program in place where you can obtain temporary residence from within Mexico, without having to leave the country or meet the financial requirements required when applying outside of Mexico at a Consulate.
The rules for participation are straight forward. If you have visited Mexico on an FMM Tourist Card at least twice before between 2010 and 2019, and if you are currently in Mexico and your Tourist FMM is expired. You can pay a fine and apply for Temporary Residency from within Mexico at an INM office and be granted a Residencia Temporal, usually within a day. We don't know how long this special process will be available, so please take advantage of it if it applies to your situation.
Entering Mexico As A Tourist
If you want to enter Mexico to visit for a few days or up to 180 Days you can use the FMM Form (Forma Migratoria Múltiple) when entering by air or land. When it asks for the Purpose of your trip you have 4 options. For this example you would choose Tourism.
If you are arriving by air the cost of the FMM form is usually included in your ticket price and you would just fill out the form on the plane or after landing but before approaching the INM Immigration counter. If you are entering by land you can get the card at the INM office at the border crossing. You can also obtain the form online by clicking the button below. You can fill out the form (in Spanish) and then save and print it. You will pay the fee with a credit or debit card. When ordering the FMM online you have 30 days to use that printed document to enter Mexico and it must be stamped at the border or at INM upon arrival at the airport.
When it asks for the Purpose of your trip you have 4 options. For this example you would choose Tourism.
Business/Negocios (Only select if you are travelling for Business)
Tourism/Tourismo (This is what to check for this example)
Crew/Tripulacion (Only for Flight Crew members)
Other (This is used by Residente Temporal or Permanente holders)
Fill out the rest of the form with your name, passport and flight information and where you will be staying in Mexico. This tourist form can be valid for up to 180 days at the discretion of the INM Officer. I recommend asking for the maximum time allowed (180 days) even if your stay is going to be shorter in case your travel plans change. There is no penalty for leaving early but there are penalties for overstaying. The Tourist Card cannot be changed or extended once issued and you must leave Mexico prior to the expiration date on your Tourist Card.
If you lose your FMM form while in Mexico and are leaving by Air you will need to purchase another one ($533 MXN Pesos, $ 31 USD or $ 42 Canadian ) paid to Mexico Immigration at the INM Counter before being allowed to board the plane.